Everything Sherlock – Website Contributers
About Anita
When I was a child I was an avid reader.  I still am.  My parents were immigrants and spoke little English and so it was very important to my mother that her first born child  (that was me!) be able to read and write English before starting school.
We had little to no money and so I had a teddy bear and my sister had a doll and we shared those toys together.  Any extra money went to books.
However, my mother did not purchase story books suited to our preschool age group. She purchased the classics. Before entering Grade 1, I had read Robin Hood, Alice in Wonderland, Kidnapped, Pride and Prejudice, everything by Charles Dickens and many others.  My mother could not read English very well herself, so she had no idea that a lot of what I was reading was probably not suitable fare for someone that young!  I am most famous for memorizing the entire dialogue of Treasure Island.  My Grade 2 teacher was so impressed that she had our class put on a play for the whole school. Naturally, I played Squire Trelawney, who had the most complex dialogue.
So it's no surprise that I acquired books by Sir Arthur Conan Doyle at a very young age and devoured them all. All of them were read and then read again. Sherlock Holmes was my hero and even though I was female, I wanted to be him! I wanted everything Sherlock.  Boy, I wish I still had those books!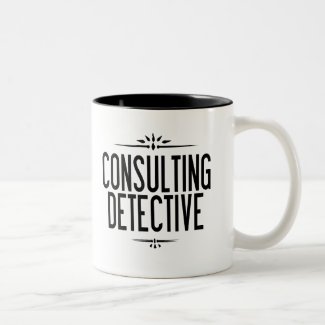 Fast forward 40 to 50 years and suddenly there is a renewed interest in Sherlock Holmes. There is a block buster Hollywood movie series, a TV series featuring a female Dr. Watson and a BBC series that has only 3 episodes per series and leaves young women breathless for more.
My kids want to be him and dress like him and now they are into everything Sherlock. My son went to the local thrift shop and managed to purchase a coat similar to that worn by the BBC Sherlock character. He thinks he is pretty cool!
Our plan is to provide a one stop place for Everything Sherlock! So pull up a comfy chair, grab some tea in your Consulting Detective mug and enjoy our thoughts on Everything Sherlock!
(Top image credit: Poster available at All Posters.com)